Reviews: Front Bumper

Stay

for Toyota Hilux 1984-88 2WD 4WD Pickup
I believe that most owners have the experience: Without confirming your vehicle vin, you bought wrong parts.
Return or cancellation is always annoying. In order to avoid these situation, when you can't make sure which type fits your car, you are always welcomed to contact us.
Here is a case we often met:Front Bumper Stay for Toyota Hilux 1984-88 2WD 4WD Pickup
It's very easy to imagine : If the bumper is identical, the other parts inside the bumper should be identical. However, some differences are found on this model. There are 3 types depending on 2WD or 4WD or the years.
This story really happened!
We got a client called Tom. He is a DIY lover. He wants to repair his front bumper by himself.
Tom got a Toyota Hilux Pickup 1988 2WD. Although we put pics on our page, it looks too similar to tell.
He ordered parts for 1986 2WD finally.
In order to make sure Tom ordered the right part, we took the initiative to contact him. At that time, Tom found out he ordered the wrong part.
Fortunately, we found out that the specifications were different and helped Tom to order the right part.
There are 3 types of front bumper stays below. Try to match the pictures.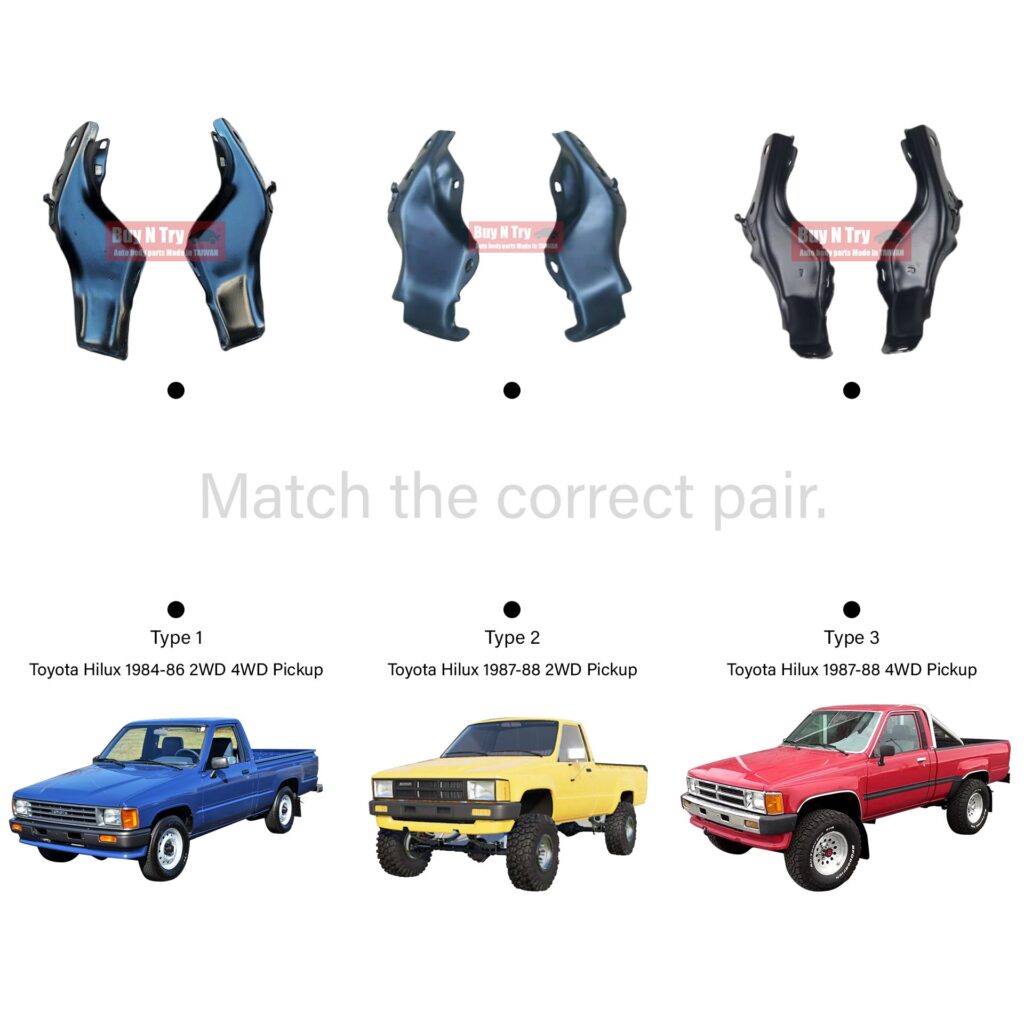 You would be confused if you didn't really take them off. Now you don't need to do that, you just need to read.
We will show the answer.
Type 1:Toyota Hilux 1984-86 2WD 4WD Pickup
OEM Number :52012-89108(LH), 52011-89108(RH)
Partslink: TO1066104(LH), TO1067104(RH)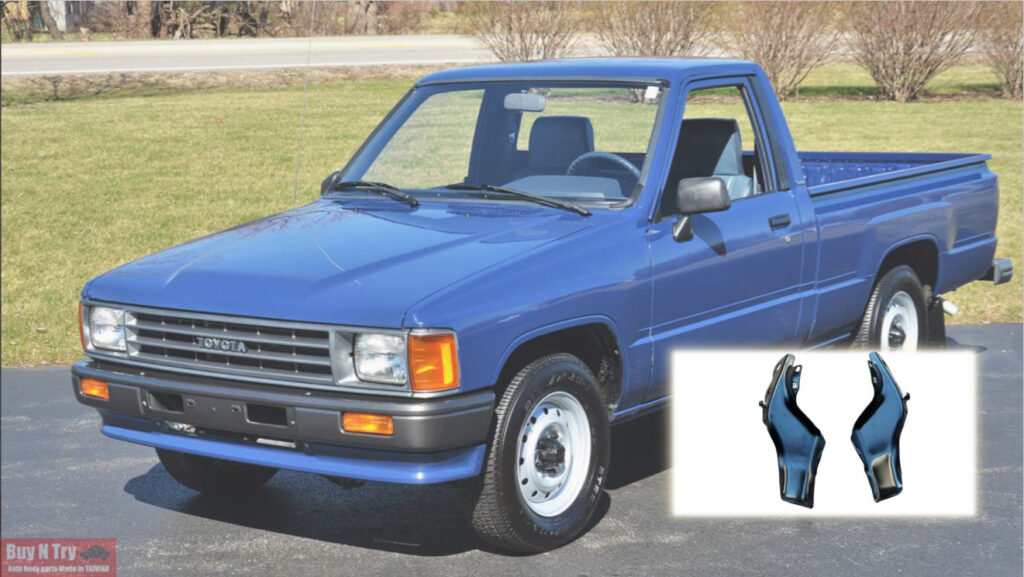 ---
Type 2:Toyota Hilux 1987-88 2WD Pickup
OEM Number :52012-89112(LH), 52011-89112(RH)
Partslink:  TO1067106(LH), TO1066106(RH)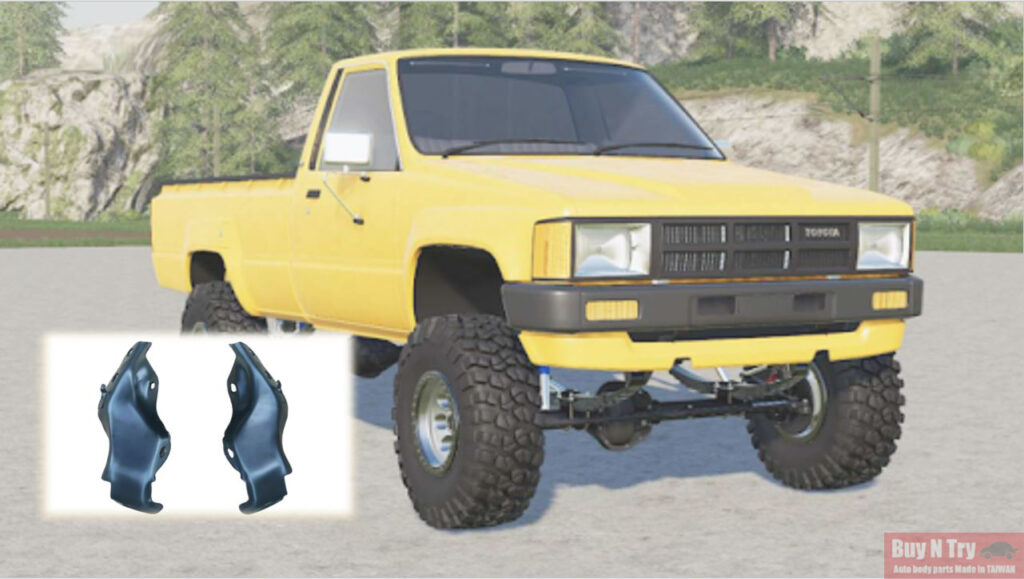 ---
Type 3:Toyota Hilux 1987-88 4WD Pickup
OEM Number :52012-89111(LH), 52011-89111(RH)
Partslink:  TO1066105(LH), TO1067105(RH)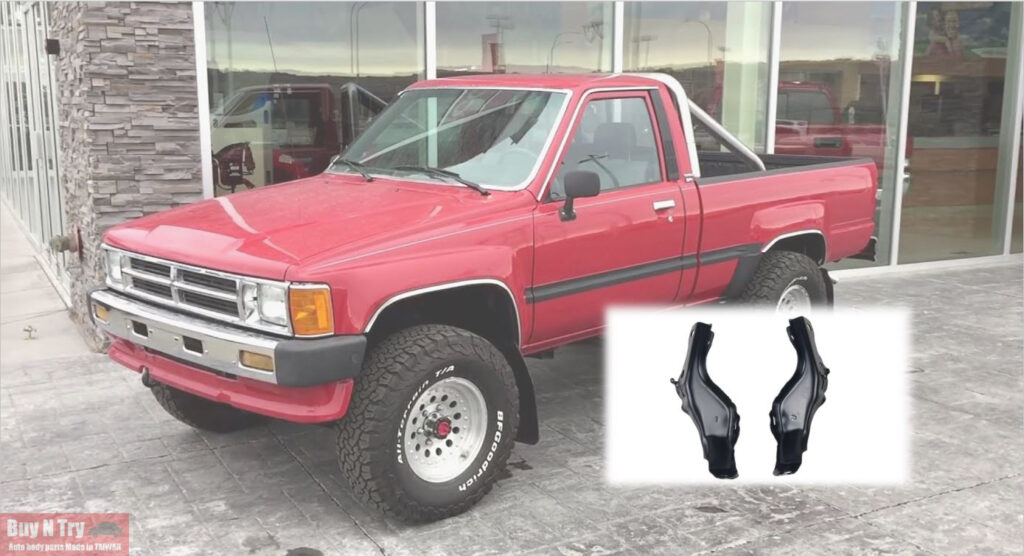 ---
All of them are made of steel, with black, anti-rust painting. That's why it's heavy. There are 20 piece in a box.
Try to imagine how heavy it is.
Hard to find them
Not Always Available on Marketplace
These models are easy to find everywhere, but not very easy to find this part,
especially for 1987-88 4WD on eBay or Amazon. They look similar but not compatible. If you just have a glance, it might buy the wrong part.
Made a mistake while ordering
We can see a clear difference when we put them together. Although they share the bumper,
but the fasten holes are not the same. That's why, buying the wrong part is very common.
But after you check this pic, you will never, ever make a mistake.
Find them here on Buy N Try Parts
Buy N Try Parts provides all these parts.
OEM Number :5201289108(LH), 5201189108(RH)
OEM Number :5201289112(LH), 5201189112(RH)
OEM Number :5201289111(LH), 5201189111(RH)
No matter which model for 1984-1988, you can find them here.