How to survive in the US-China trade war?
Tariffs impact both the US and China
It's been more than 1 year. What does the tariffs impact the US and China? There are many articles and research discussing that. For sure,both the US and China are suffering. Enterprises are struggling to avoid the tariffs. There are a couple of ways below.
1. Requesting China suppliers to cover it, it means to request China suppliers to make a price reduction.
2. Transfer orders to other regions such as Taiwan or Southeast Asia.
3. To build new plants in low labor cost regions, reduce the supply dependence of China
4. Doing nothing and stick to the current business situation, expecting the war to end asap.
America Dream?
Although the US President, "Donald J. Trump" wants: Made in America, in fact, just few US manufacturers back to America "symbolically". For now, most America companies used way 2. It makes Taiwan get benefit as the fig. below.
We can see clearly that before and after the trade war, the export from Taiwan to America increased. Because thousands of Taiwan manufacturers are keeping producing high quality, fast shipment and fair price products. It's very easy to find replacements in Taiwan, that's why Taiwan is a good choice to help America companies get through it in short period of time. With the tariffs, Taiwan companies take advantage on it. Besides, Executive Yuan proposes a plan,"Action Plan for Welcoming Overseas Taiwanese Businesses to Return to Invest in Taiwan" to encourage manufacturers back to Taiwan. They expect it brings high tech manufacturing industries such as Industry 4.0 or 5G related products back.
The Taiwan Body parts manufacturers are the real beneficiary in the US-China trade war
Let's focus on auto body parts categories(HS code 8708): U.S. imposed 25% tariffs on China since June, 2019. In the below chart, comparing to 2017, sales in 2018 increased only 0.4%; but 2019 increased 4.1% comparing to 2018. It had significant growing. It means auto body parts exporting got benefit in the trade war. In the same time, it also implies no matter price or capacity, Taiwan manufacturers are very competitive and flexibility so that they won clients' trust soon and received orders successfully.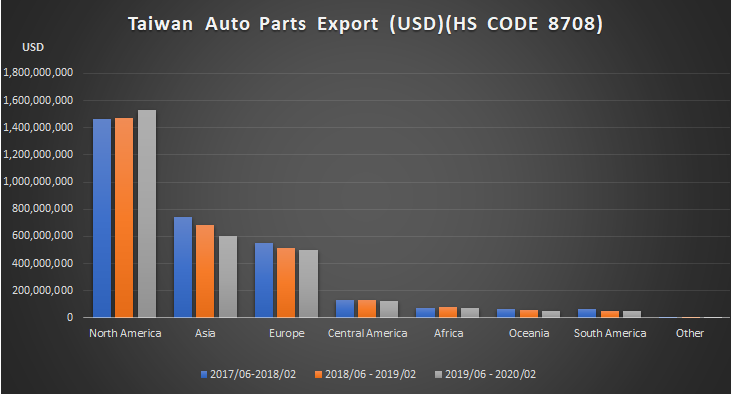 Everyone knows these orders are just temporary. I believe American companies will have their back up plan for the future. Taiwan has been the first of "Four Asian Tigers". It indeed has been the best opportunity since last 20 years. Taiwan manufacturers must hang on it. All of us should have to consider that: how should we move on and keep items competitive after the war.
Reference from:https://cus93.trade.gov.tw/FSC3010F/FSC3010F
After 1 year, we keep the data updated
Read here!
https://www.buyntryparts.com/the-effects-of-us-china-trade-war-on-taiwan-auto-parts-exports-2/