Chevrolet Tahoe is one of the most popular models in the US.
According to the statistics, over 260,000 sold on 2020.  Lots of owners will face a problem; how to check the exactly position for the parts in front bumper. 
However, most pictures you can find on the Internet is exploded view, hardly to check the exactly position.
See the Front Bumper Bracket for 2021 Chevrolet Tahoe / Suburban and where to fit it.
Buy N Try Parts keeps developing new parts for the newest model such as Chevrolet Tahoe / Suburban. For now, you can't find this part on other websites.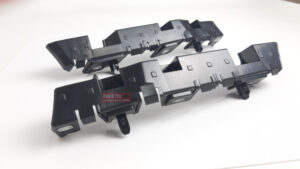 The aftermarket part for 2021 Chevrolet Tahoe / Suburban Front Bumper Bracket
The OEM number is 84922821(LH), 84922822(RH)
The Partslink is GM1062136(LH), GM1063136(RH)
You can't find any information on the website which is selling genuine parts such as
https://www.gmpartsdirect.com/oem-parts/gm-guide-84922822
Besides,on GM's catalog, it writes"Guide ", instead of we are familiar with "Bumper Bracket"
Where is it located?
It's the back side of 2021 Chevrolet Tahoe front bumper assembly. In fact, it's an important part to connect the front bumper and fender. In addition, the impact energy would be absorbed when the bracket breaks. Sometimes you bumped something, there would be a gap because of the bracket got broken off. You can see the fit position clearly in the below picture. This bracket absorbs the impact if you run into something.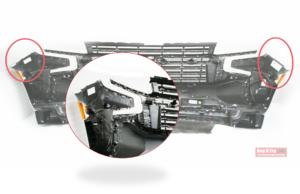 Let's see and check the quality. The item comes with 4 u-nuts.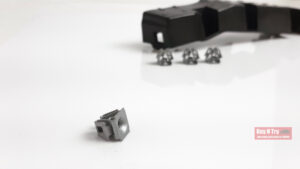 About the u-nuts

:
It's coated by DACROMET; which is a new type of anti-corrosion zinc aluminum coating. Dacromet treatment is a kind of chromium-free surface treatment process,not like a traditional process, it won't need lots of water and drastically reduces water pollution.
About the material

:
It's made by ABS, from CHI MEI  POLYLAC®ABS. CHI MEI POLYLAC® is compliant with RoHS, REACH SVHC, UL, and numerous international standards for various applications. as prime material as an authentic part. Although it costs more, we still use it.
Neat edge and no any flash on the bumper bracket for Chevrolet Tahoe / Suburban
All the new models have smaller gaps between bumpers, fenders, headlights, even though doors. It's very important that it can't have flashes on edge, or it might have a bigger gap. Besides, the mount point is a key point, if the shape is too round, instead of angular, it might not be easier to fasten the bumper. It would be possible to make the gap bigger.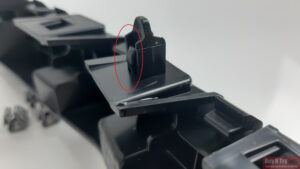 Where to buy
Very easy to order it, all you need to do is click "order" and check out and wait for the part.
https://www.buyntryparts.com/product/chevrolet-tahoe-2021-front-bumper-bracket8492282184922822204/
Morever, you can find more parts on Buy N Try Parts here.